SO, I took advantage of some mild weather this weekend to get moving on a few pieces of furniture that have been waiting patiently.
These rose back chairs were inexpensive Craigslist finds, but they were pretty and had potential!


The roses and curvy legs are so feminine, they just were screaming for some pink!
I started off by reupholstering the seats with canvas drop-cloth. (Yes, I said it, a drop cloth! It's canvas, it's pretty, it's easy to work with and softer than burlap. Do NOT share this secret, or the guys at the orange store will just start charging more for it!)
I found this original needlepoint rose fabric under the top layer.
After reupholstering, I added a little color with fabric paint and a stencil.
I brewed up a little homemade chalk paint using the following recipe:
1 1/2 Cups latex paint
1/2 Cup water
1/2 Cup calcium carbonate (ordered online - it's just powdered chalk)
I used an old pasta sauce jar and shook it up really well. This is the perfect way to paint furniture if you plan to distress it at all. It covers everything, doesn't require priming and dries really fast!!


Just for good measure, I used two coats of white paint and then painted the roses with pink craft paint. The pink originally felt too bright, so I watered down a bit more of the white chalk paint (making it really milky) and painted over the roses.


Once the paint was dry, I distressed lightly, and glazed with Valspar Mocha glaze. I love the way the carved details stand out!
Notice the little distress mark on the left side? This same mark is on both chairs. I think it must be where the chairs were pushed into the table over and over in their former life. Can you picture it? Sorry to get sappy, but something about making that connection just fills me up.
Voila!
I'm really pleased with these! They seem perfect for a girls' room (which doesn't exist in my home!) What do you think of the transformation?
One more before and after...
I was featured here!!!!!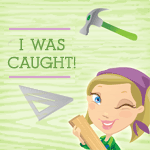 These pretty girls are partying here: