I found a little writing desk at an estate sale. It was laminate and an ugly brown color, but I liked the shape and size and thought I'd paint it black. I bought it for myself, so I wanted it to be as inconspicuous as possible. (I'm still "borrowing" space in another room while I work on creating an office/workspace.) Since it was laminate, I knew I'd have to get serious about primer and hope for the best.


(Oops, no before photo. I bought this desk same day I bought the pulley
here
. I think I was so excited about the pulley that I forgot about the desk!)
I started out by spraying on Kilz spray primer. The edges all started crackling, which seemed like a bad sign. I sanded and primed again. This time I rolled on a grey primer - more crackling. I'll spare you the details, but let's just say after priming, sanding, priming, sanding, painting, sanding, painting, painting, and painting...I was just plain ready to put the thing in the trash!!
But, that would just be silly. So, onto plan B.
Plan B, Plan B, wait, what was Plan B?
Oh, yeah... I like this... alot. In black?!?!
source
I embraced a few remaining crackles, glazed, rubbed, drybrushed, rubbed, waxed, rubbed, bought new pulls and came up with this...
It almost looks like it's wrapped in leather.
I love it! Bonus: the 14 coats of paint are preventing it from chipping every time I turn and whack it with the arms of my office chair!
SO glad I didn't throw it out!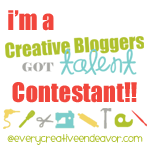 Thanks! You're my new BFF!
Linking this little desk here: